 SKYWAY TECHNOLOGY OF THE SECOND LEVEL THAT WILL CHANGE
THE WORLD, WILL BE PRESENTED AT THE GLOBAL TRANSPORT
EXHIBITION –
INNOTRANS 2016
20-23 SEPTEMBER, 2016, BERLIN
AMONG THE FEW COMPANIES IN THE WORLD, SKYWAY TECHNOLOGY DEVELOPERS RECEIVED AN OFFICIAL INVITATION:
to take part in Berlin transport exhibition of transport equipment and transport systems INNOTRANS - one of the most significant
events in the world of transport, which defines the main trends of development in this field for decades to come.

InnoTrans - the world's largest railway exhibition – is a fair of transport equipment and transport systems.
It is held every two years at the exhibition center MESSE BERLIN, owned by MESSE BERLIN GmbH.
ATTENTION! FIRST OF THE WORLD!
ONE OF THE TYPES OF "SECOND LEVEL" TRANSPORT IN
SCALE 1 To 1 WILL BE PRESENTED AT SKYWAY STAND
MAIN TYPES OF SKYWAY ROLLING STOCK: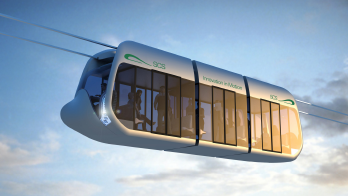 URBAN UNIBUS -


City passenger transport

Speed: up to 150 km/h
Capacity : more than 25 000 passengers/hour.
Maximum gradient: 45%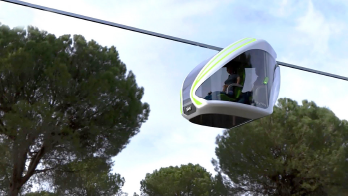 LIGHT UNIBIKE -


Urban suspended transport

Speed: up to 120 km/h
It combines the features of transport system
and a sports and entertainment object

What will be presented at SKYWAY stands?
Hall 4\.2, exhibition place 307., square footage of the stand is 54 square meters:
FUTURE Mobility Park - is a platform at the exhibition InnoTrans, which traditionally represents the innovation
decisions. It is the area where specialists in the transport sector are getting acquainted with future concepts.
The stand is located in Future Mobility Park area, and the visitors will get reference information.
-
Hall 21\.e, exhibition place 100, the footage of the stand is 3 sq. meters:
The prototype of the rolling stock and some other elements of the innovation system of SKYWAY transport,
the construction and design of which is held as the strictest secret, will be presented there. At this
stand you can meet the company's management and other representatives of the team.
Для валидности
RIGHT NOW THE SCHEDULE OF SIGNING OF THE AGREEMENTS,
MEMORANDA AND CONTRACTS AT THE LEVEL OF TOP OFFICIALS OF
DIFFERENT STATES, REGIONS AND CITIES IS BEING FORMED.
The top-level representatives from different countries of the world
are looking forward to INNOTRANS 2016 for various reasons:

- to see SKYWAY rolling stock LIVE;
- to get the answers to important questions from SKYWAY representatives;
- to discuss the perspectives of SkyWay technology application in the regions
and countries with the leaders of «SkyWay Technologies» in person
MEDIA REPORTS ABOUT SKYWAY TECHNOLOGY:
MORE THAN 350,000 PEOPLE WORLDWIDE ALREADY
SUPPORT SKYWAY PROJECT!
AFTER THE EXHIBITION THERE WILL BE HELD SKYWAY CAPITAL
CONFERENCE IN BERLIN ON 23 SEPTEMBER
Conference intent:
To increase support for the information provision process of attracting investment for the European regions and Germany.
To use the potential of SkyWay recognition at the global transport exhibition INNOTRANS 2016.

Conference purpose:
To give leaders and investors the adequate information about the certification process of SkyWay transport
technology and the perspective of the development for the coming period up to June 2017.

Time: 23 September 2016 from 18.00 – 21.00
Participants: investors and leaders of SkyWay Capital and RSW investment network
Venue: THE VENUE TO BE CONFIRMED
Format: The conference and leaders' meeting.

Initial conditions:
1. A meeting of leaders and SKY WAY CAPITAL leadership 18.00
2. The Conference starts at 18.20